ARTIFACTS
1755 Grs. 1757 Grs. 1900 Grs. 2038 Grs. Etc.
The collection of unique wooden sculptures explores the functionality of the wine bottle, imbuing it with new spectacular function. A solid French oak wood addition alters perception of the bottle rendering it architectural and sculptural.
This project was commissioned by Carwan Gallery, in collaboration with Atibaia. 200 Grs. solo show from 01.12.16 to 12.02.17.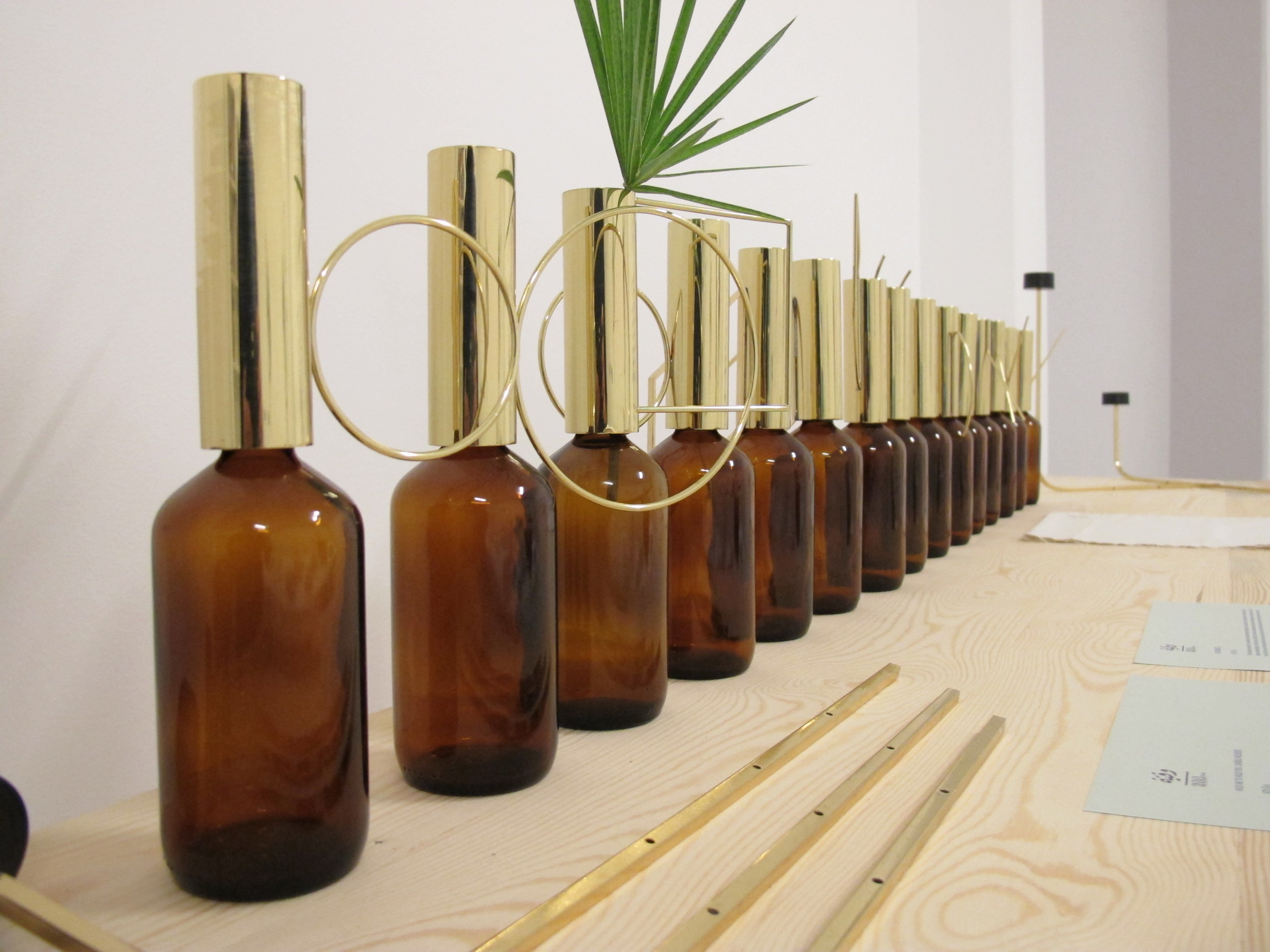 Alchimist
287 Grs.
This collection explores the re-evaluation of simple objects from daily life -such as bottles- enabling them new life and function. Adorned with additions of noble brass by 200 Grs, the pieces communicate an architectural relationship and sculptural aura about them. Distinctive all the while familiar, these sculptural vases bring the mysterious and poetic relationship between nature and geometry to any interior.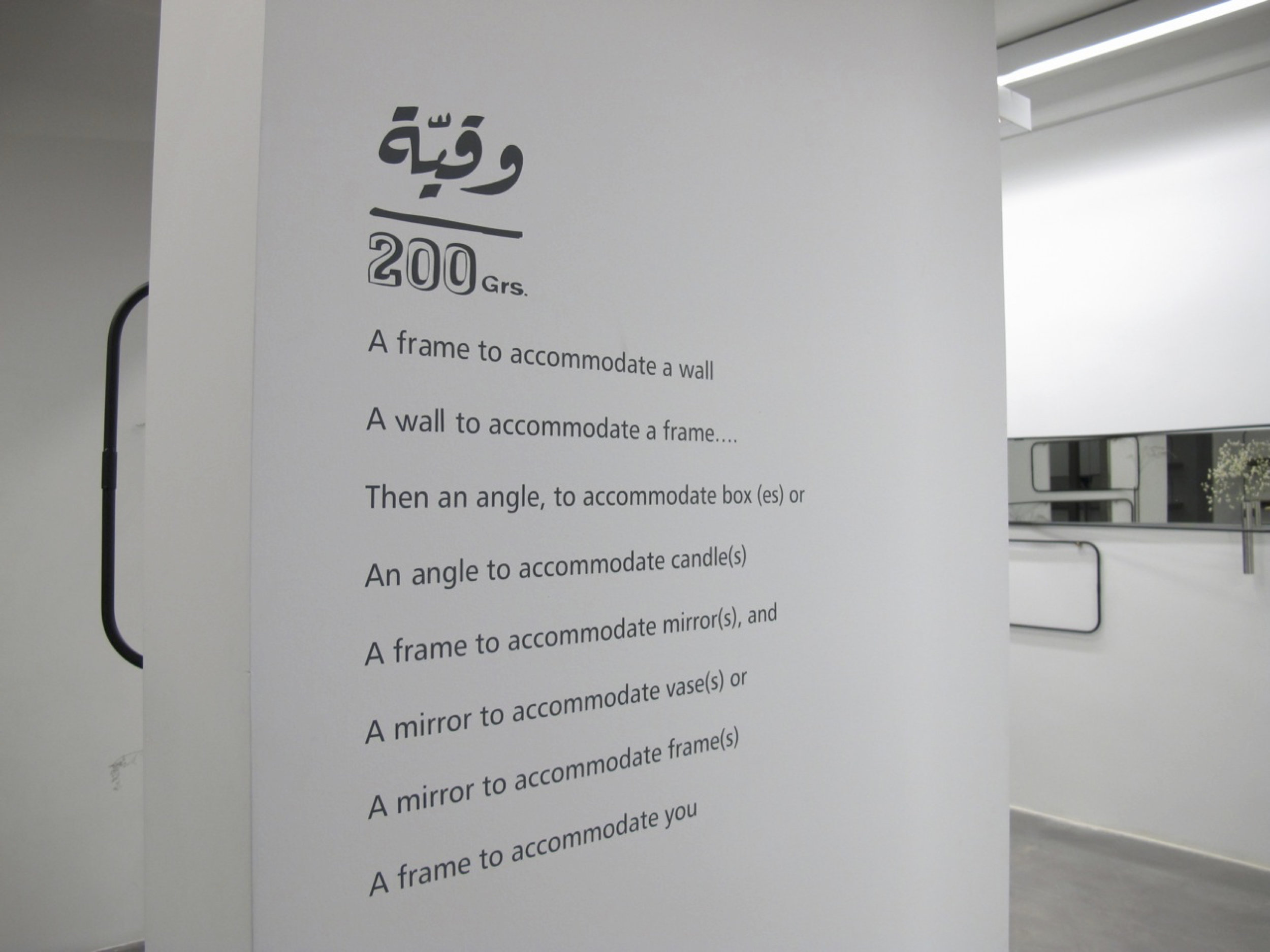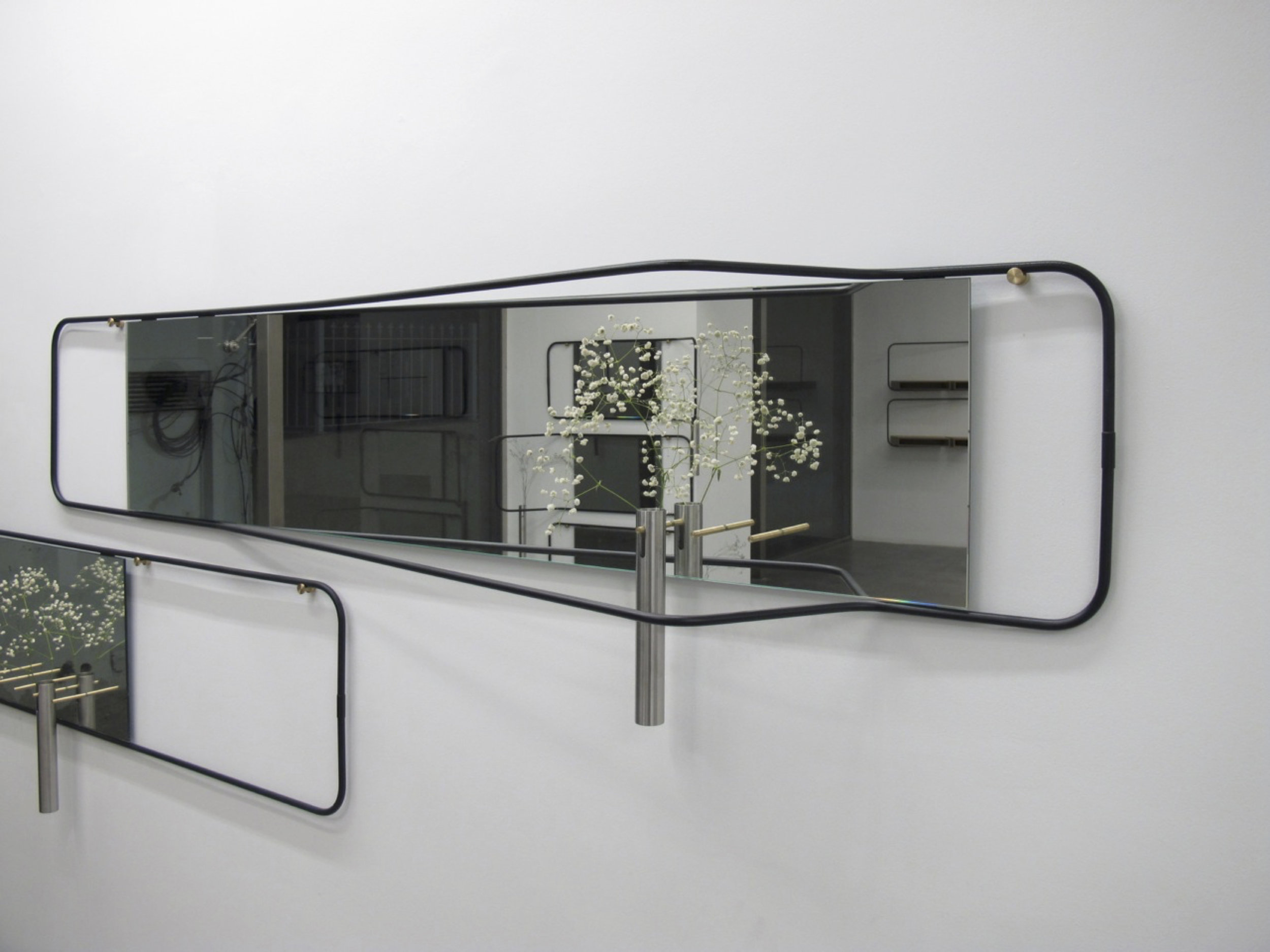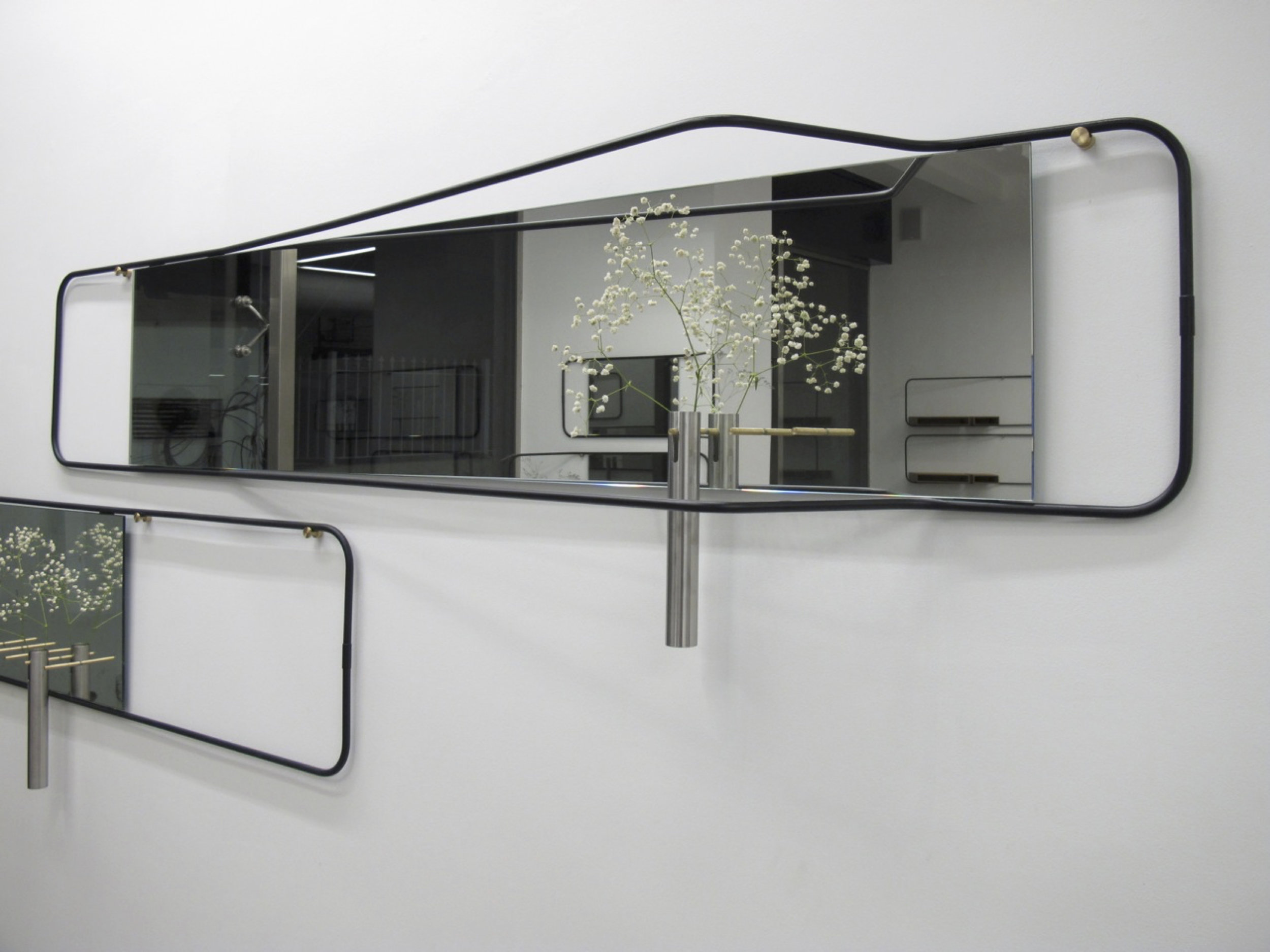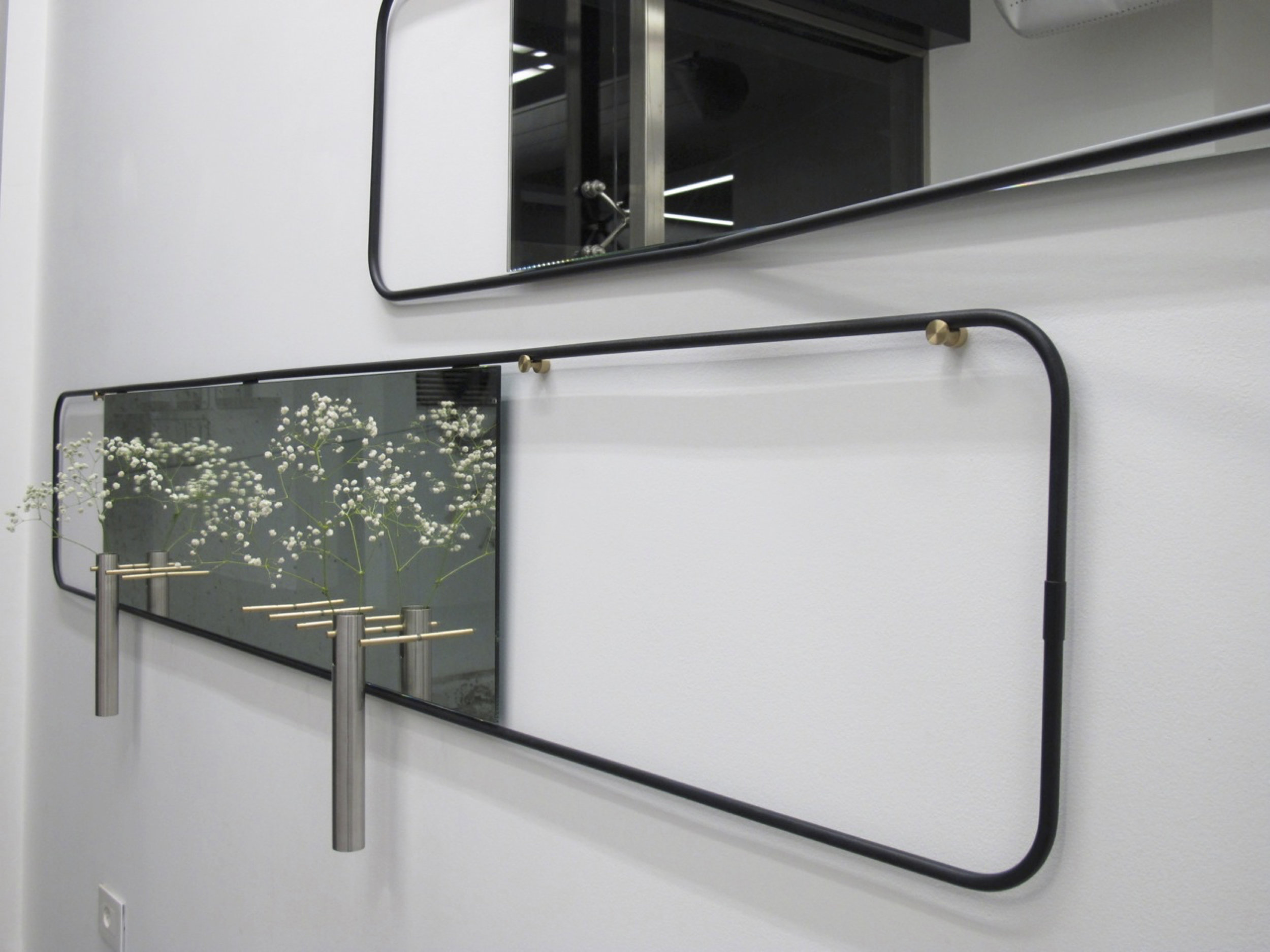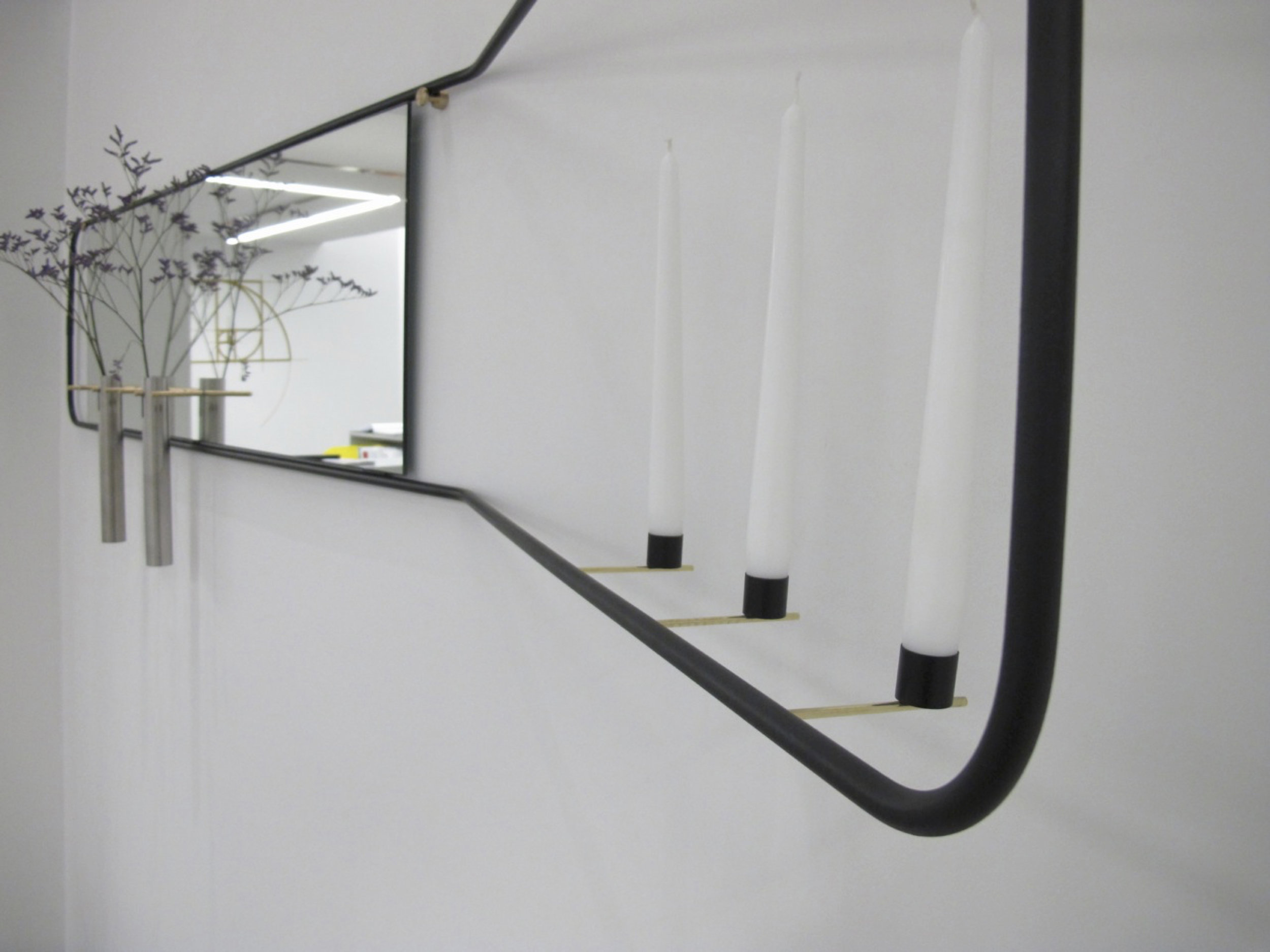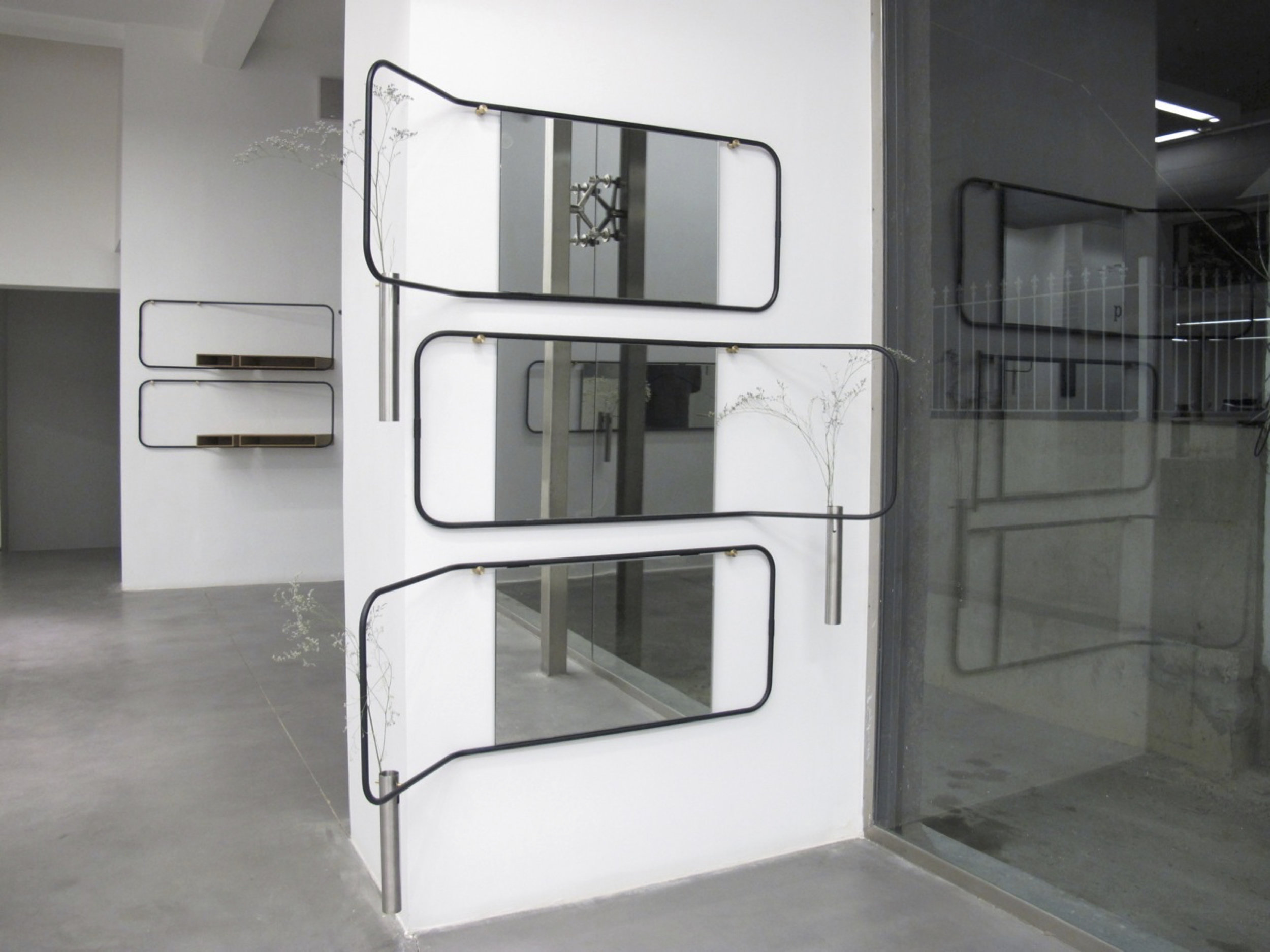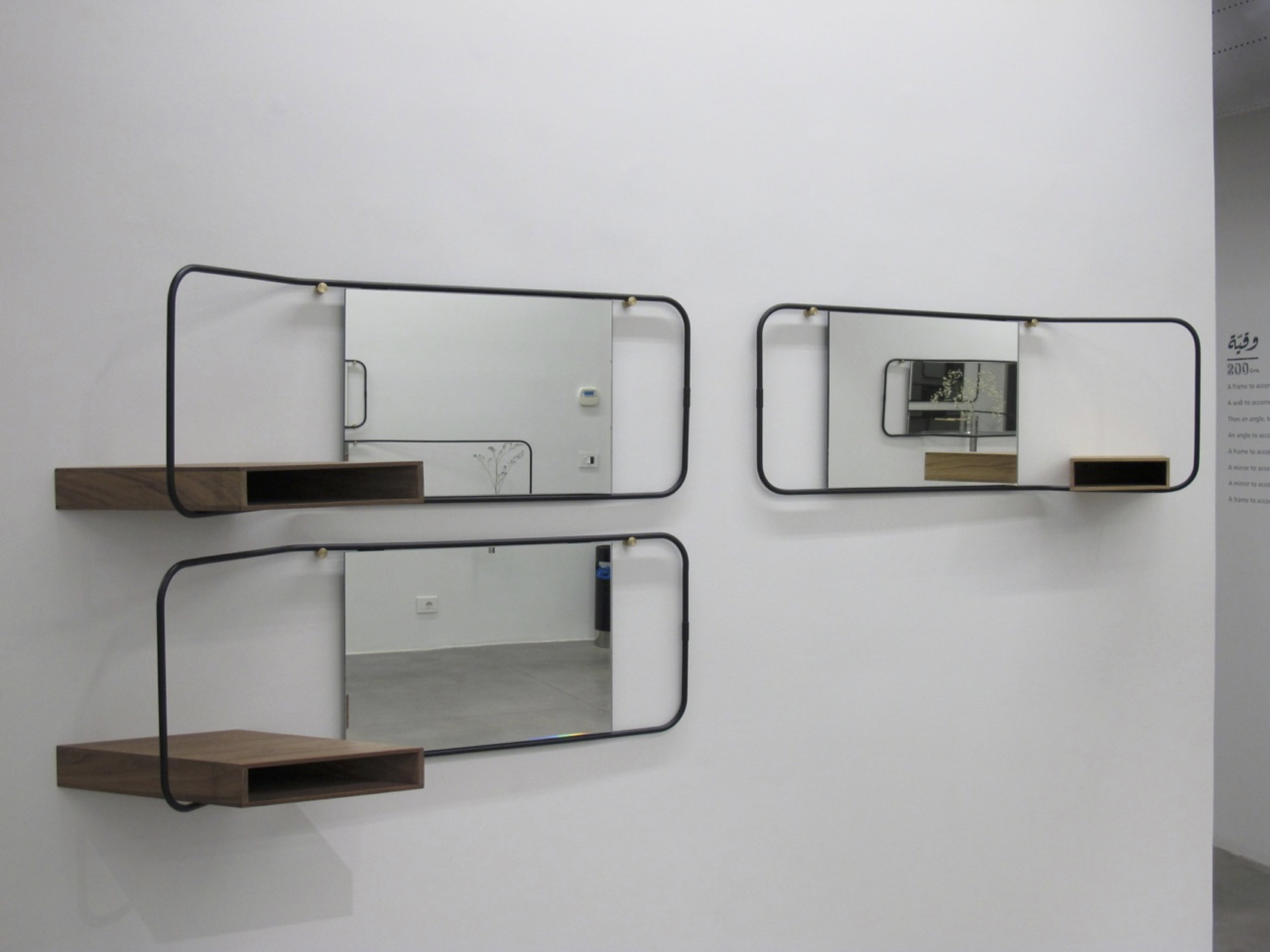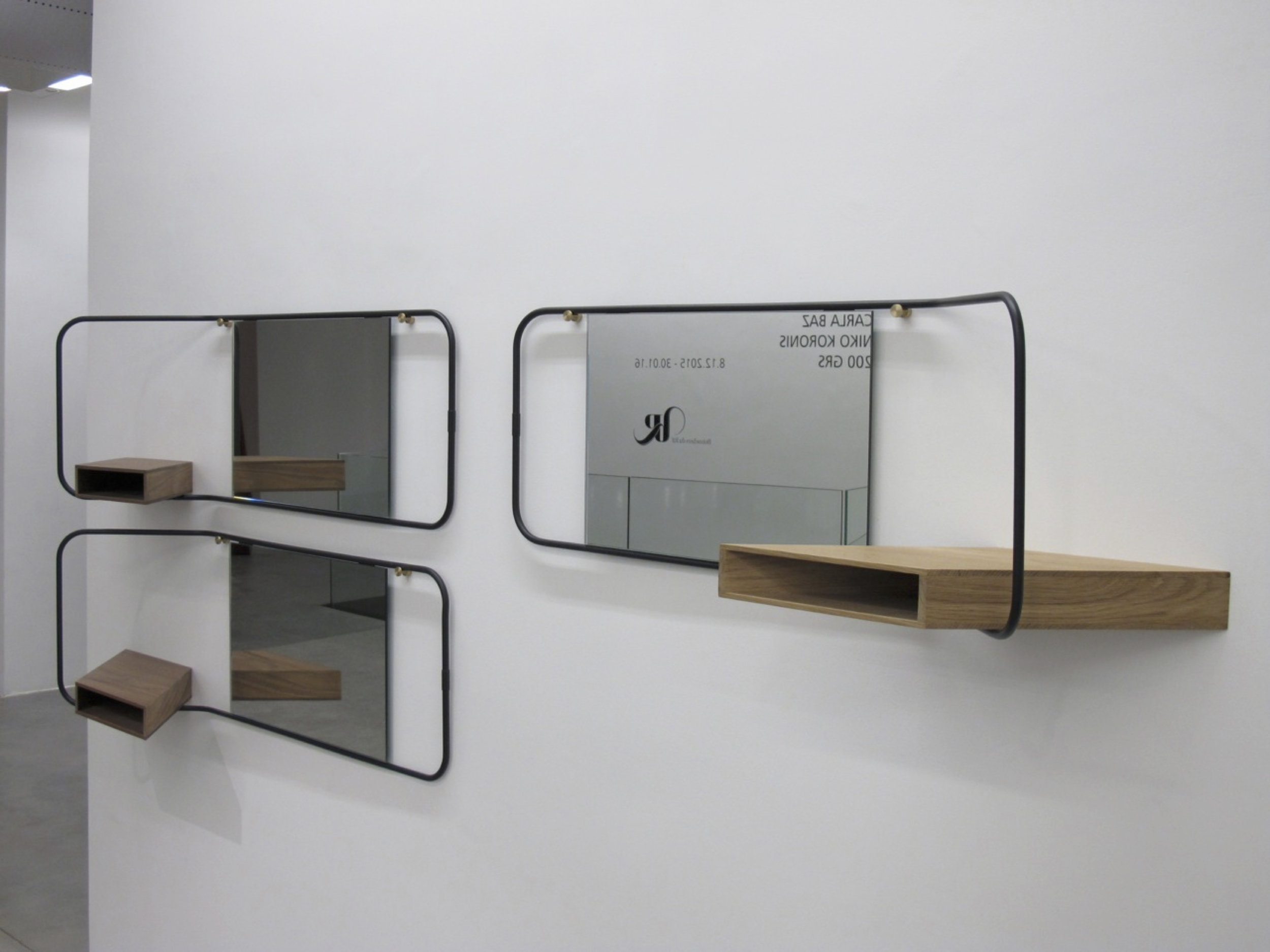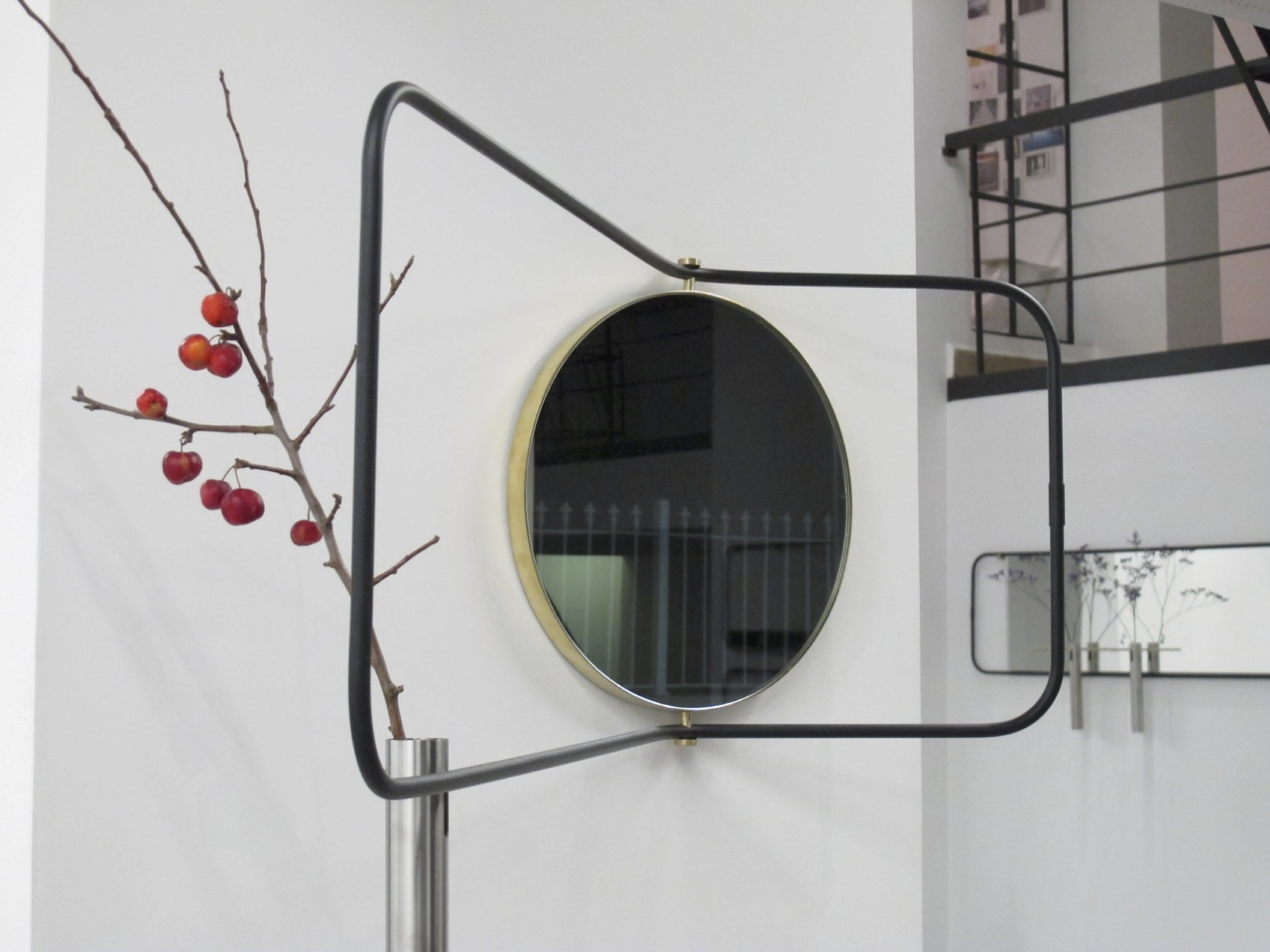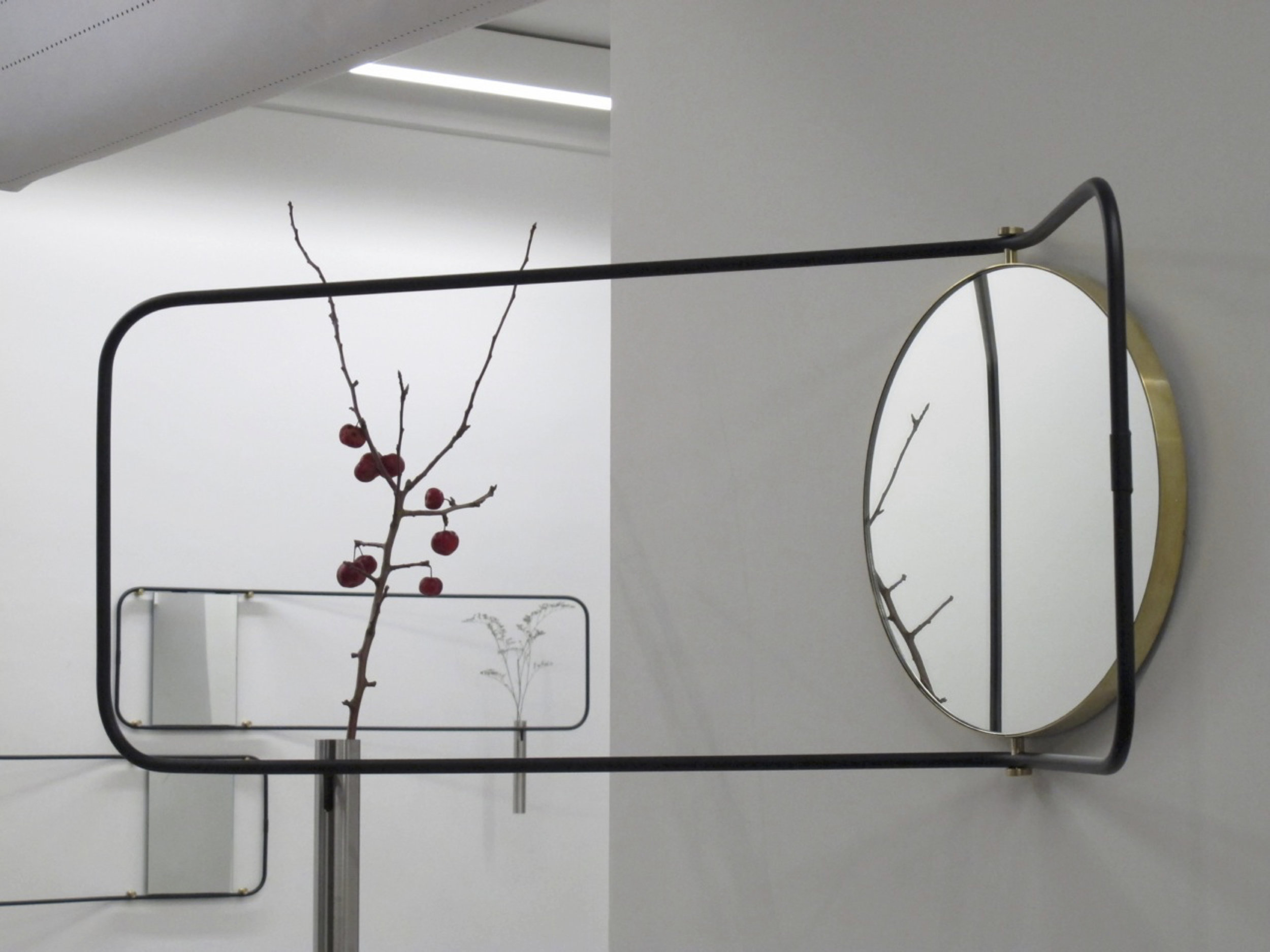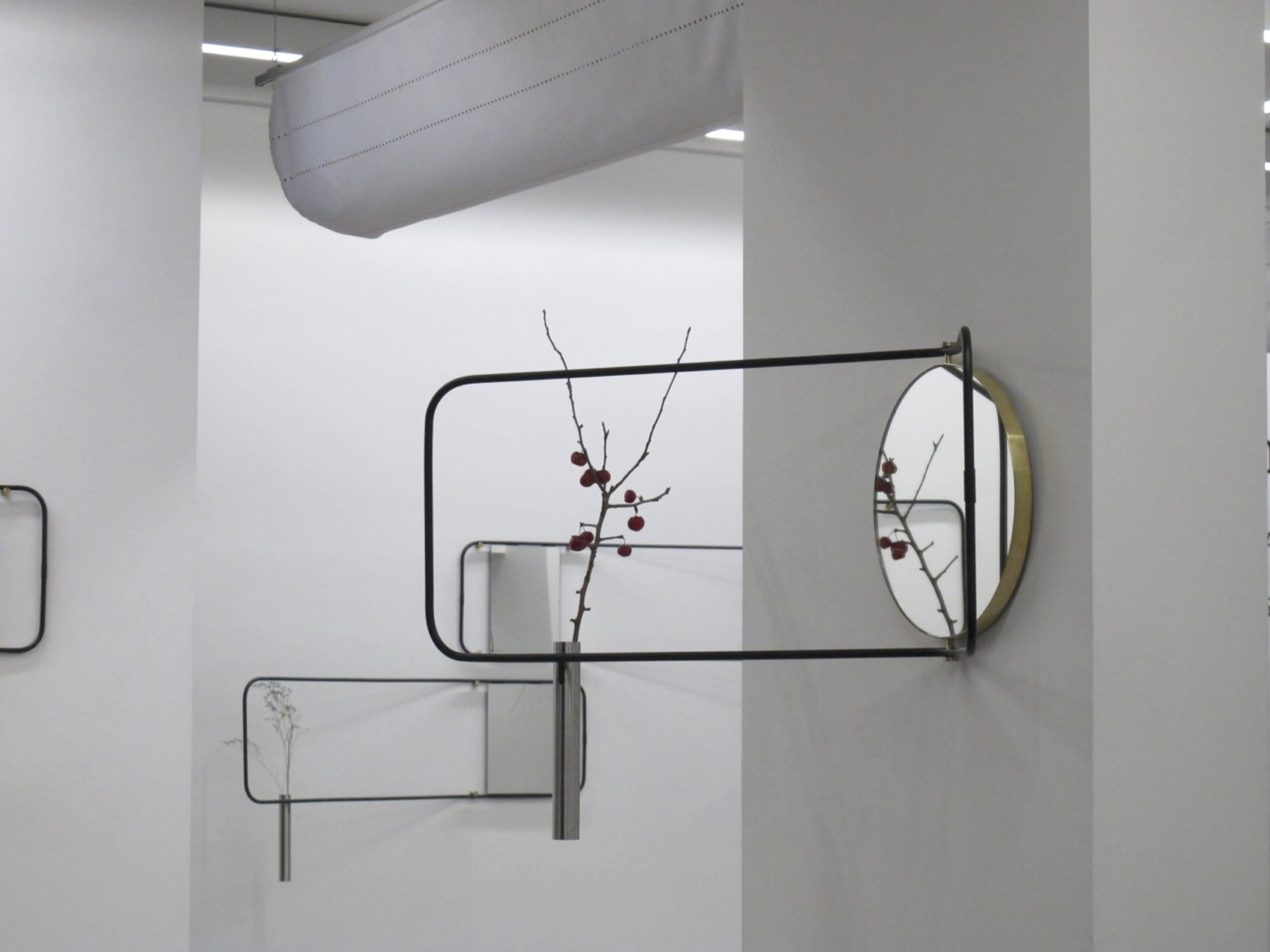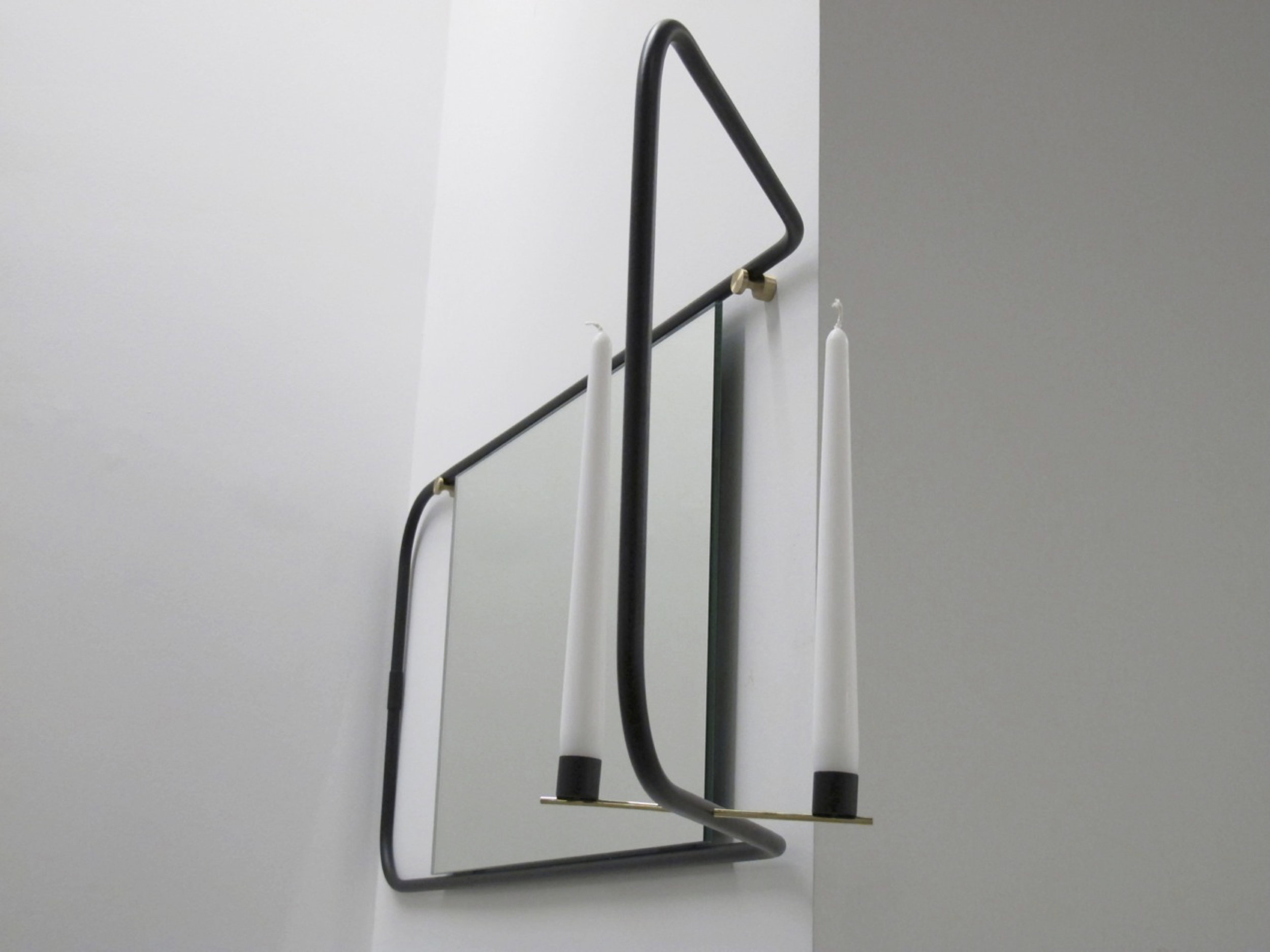 a frame to accomodate you
a frame to accommodate a wall
a wall to accommodate a frame….
then an angle, to accommodate box (es) or
an angle to accommodate candle(s)
a frame to accommodate mirror(s), and
a mirror to accommodate vase(s) or
a mirror to accommodate frame(s)
a frame to accommodate you.
Part of a group show at Art Factum Gallery, "Golden Ratio" from December 2015 to February 2016.
Hold Me/Hold You
425 Grs. the pair.
Square - section rods of noble brass carry black steel cups that hold a single candle. Each rod and cup unit depends on another for structure, enabling the chandelier to come together only though total dependency. The transfer of structure between units is boundless, and chandeliers can grow as long or wide as a surface may accommodate.
stick stuck
104 Grs. 309 Grs. 408 Grs. 429 Grs. 529 Grs.
How to hang an object in any space without having to pierce a floor or a ceiling? Stick Stuck, simply "in tension", with the pressure exerted by the rod between floor and ceiling, keeps your vases, candles, vintage mirrors, plants and a special broom afloat in space.
0.93 cubic meter
7 Kg. 8 Kg. 18 Kg. 19 Kg. 25Kg. 23 Kg. 230 Kg. 182 Kg. 198 Kg.
200 Grs. explores the balance between handwork and basic machinery in producing functional, sober, candid, and sometimes bold architectural items. 200Grs. propose a limited edition collection of tables, consoles and objects exclusively designed for Carwan Gallery.
This project was commissioned by Carwan Gallery. 200Grs solo show at Villa Paradiso from 19.11.14 to 12.02.15.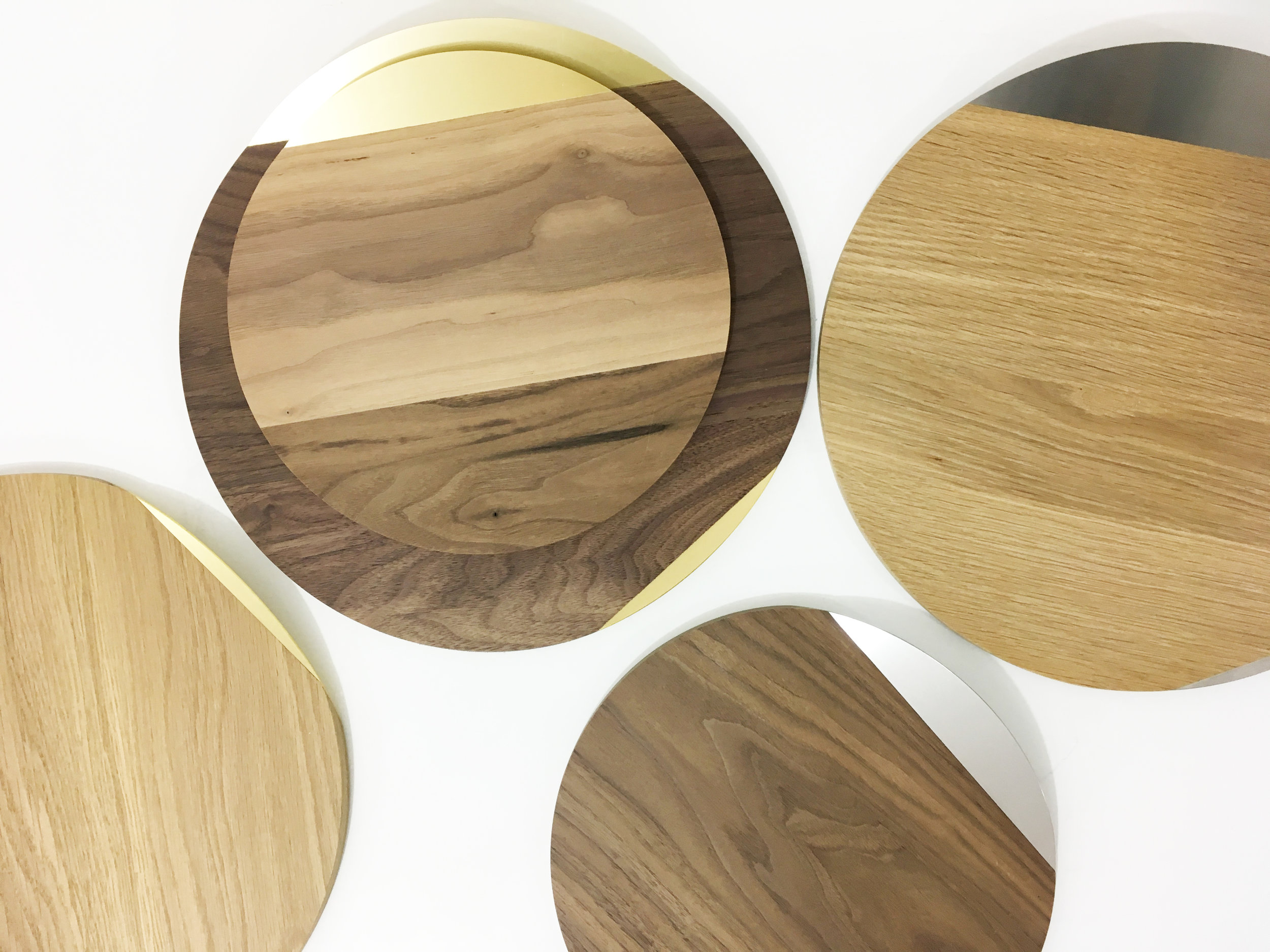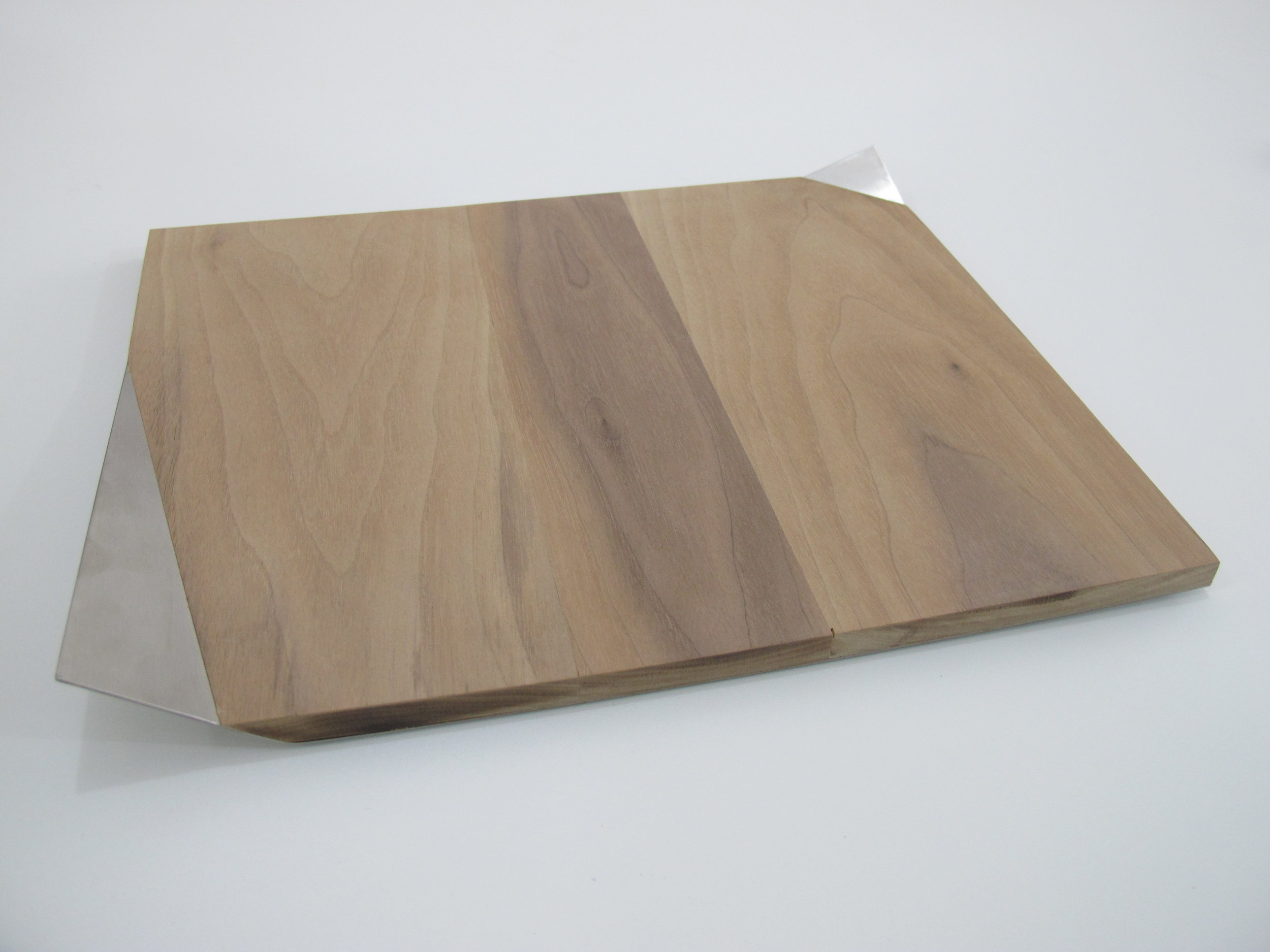 TWO FOLD TRAY:
842 Grs. 1548 Grs.
The tray's classic, warm, circular or rectangular shape is a product of subtle embrace of two noble materials. A Japanese walnut, or French oak disk tapers towards the edge where it is hugged in place against a base sheet of polished brass. The tray holds its own in a gesture that invites the user to reach for its folds and adopt it with a nimble lift.
COUP DE COEUR
780 Grs. 987Grs. 1057 Grs. 1135 Grs. 1089 Grs.1340 Grs.
Made from sand-cast aluminium, each"coup de coeur" is manually moulded and embellished with a brass geometric inlay or Stainless Steel by local artisans; a traditional process that returns individually unique pieces. The beveled rim enables the "coup de coeur to be easily lifted, while appearing to float gently on the tabletop.
These products were commissioned by House of Today in collaboration with WallpaperStore. Part of the pop up shop in the third Biennale Exhibition at the Yacht Club, Beirut. Lebanon.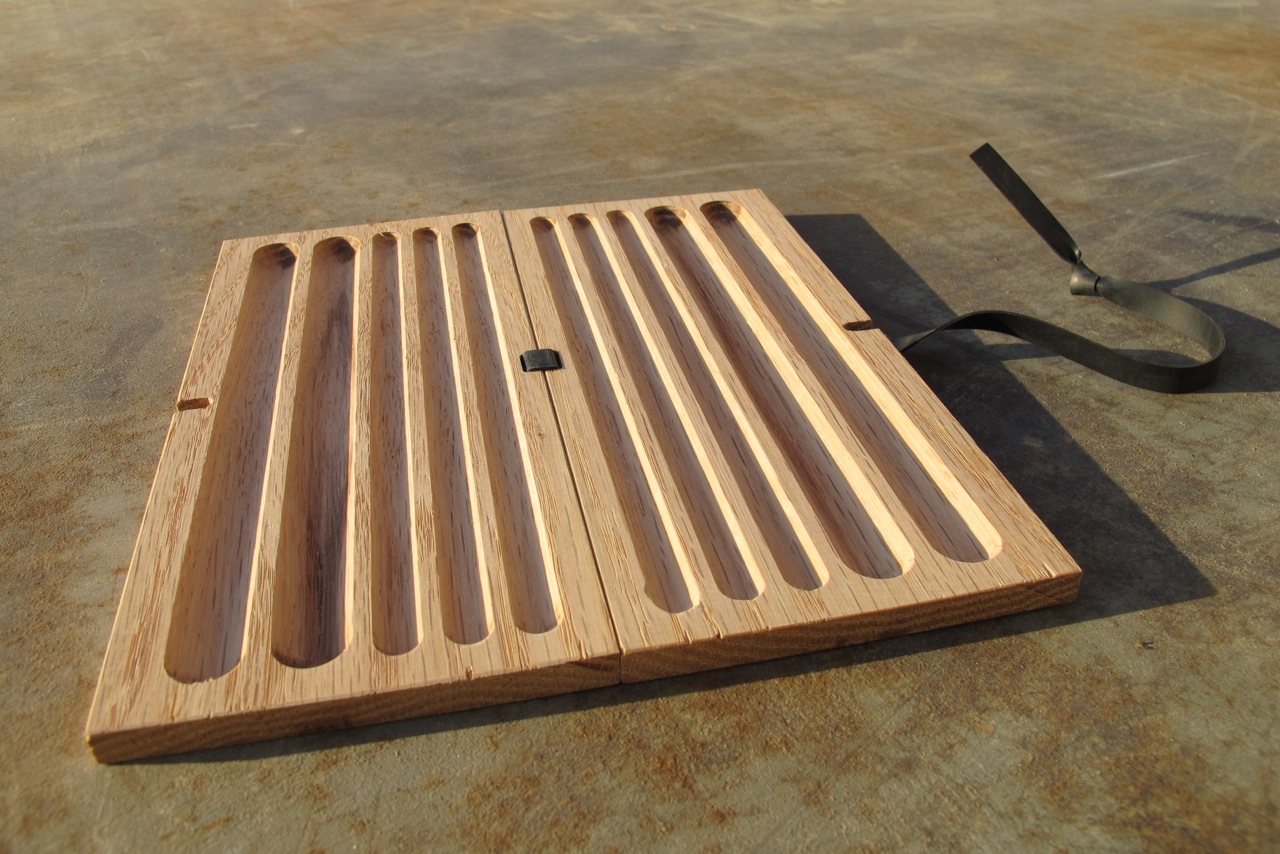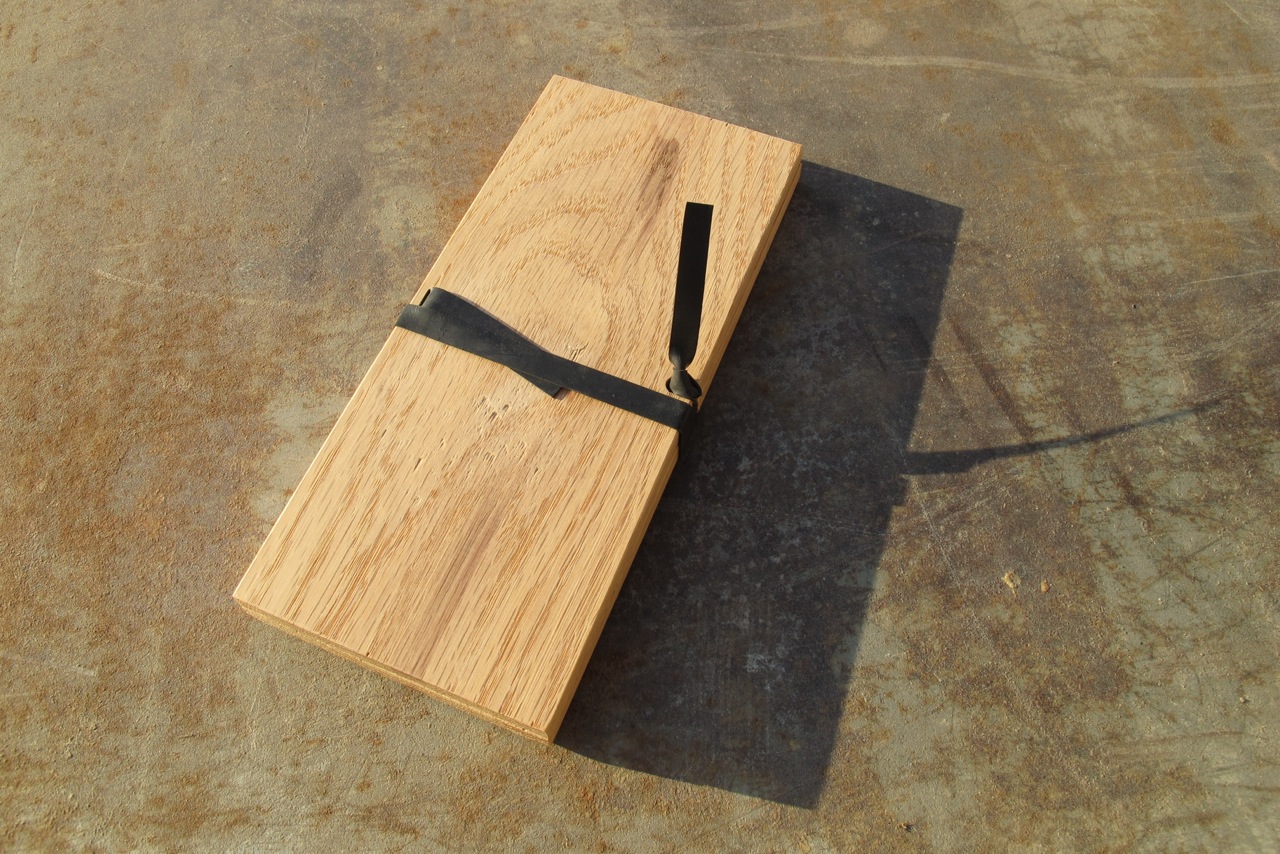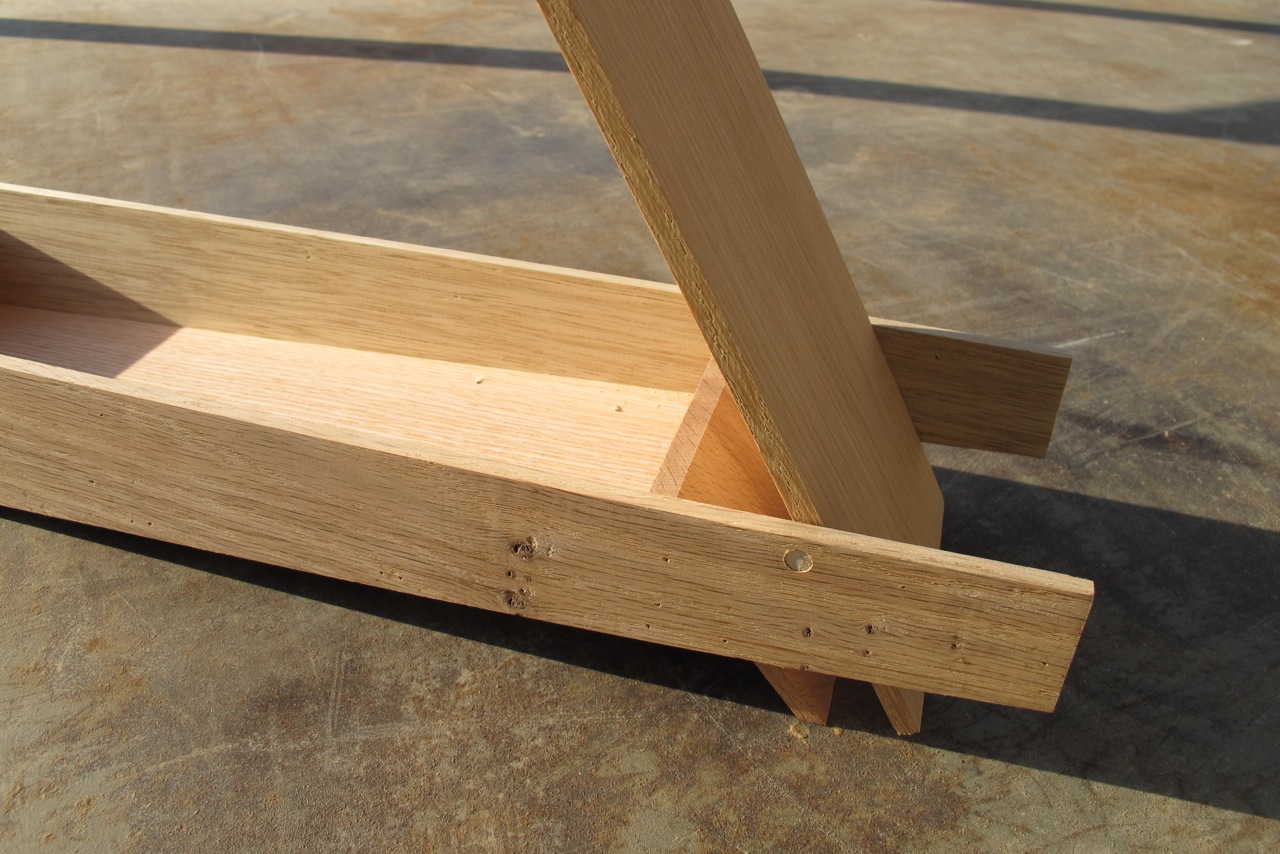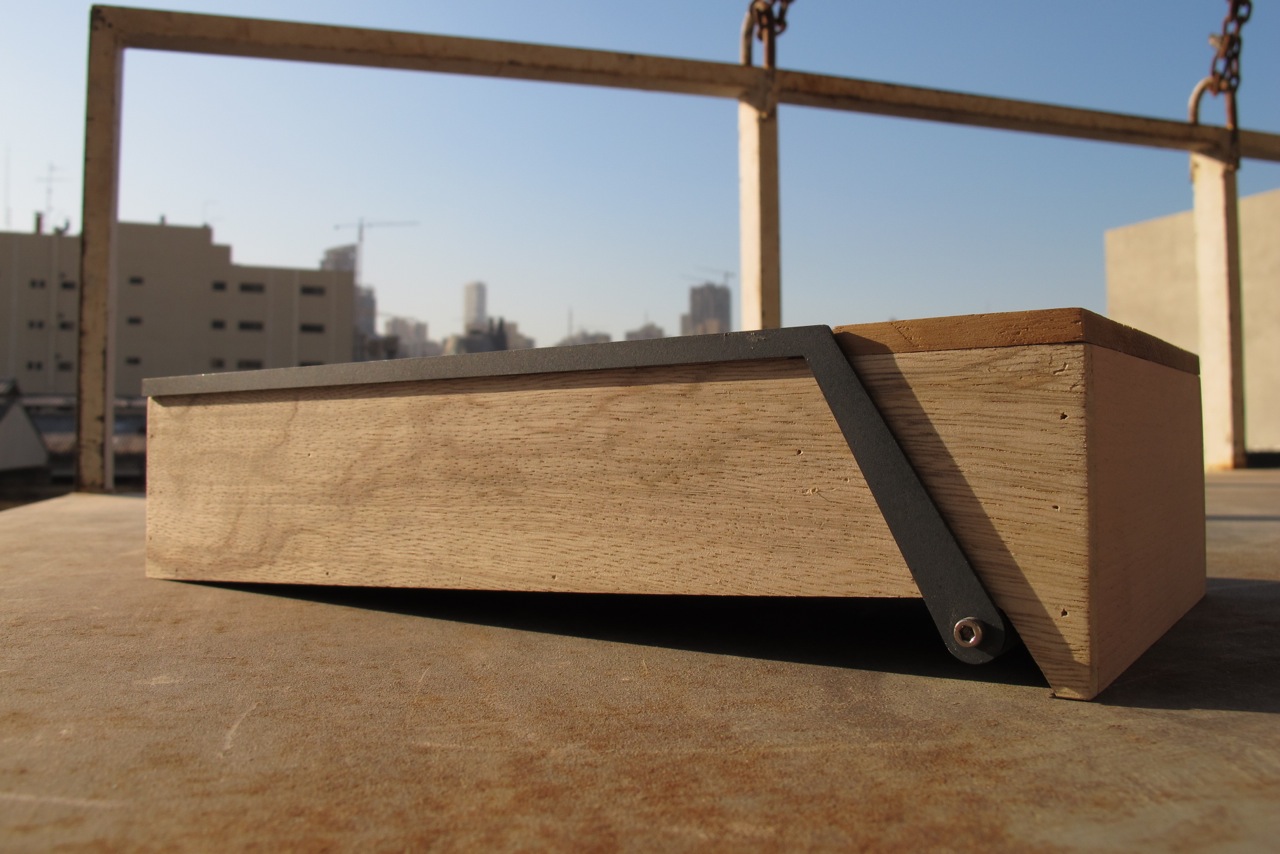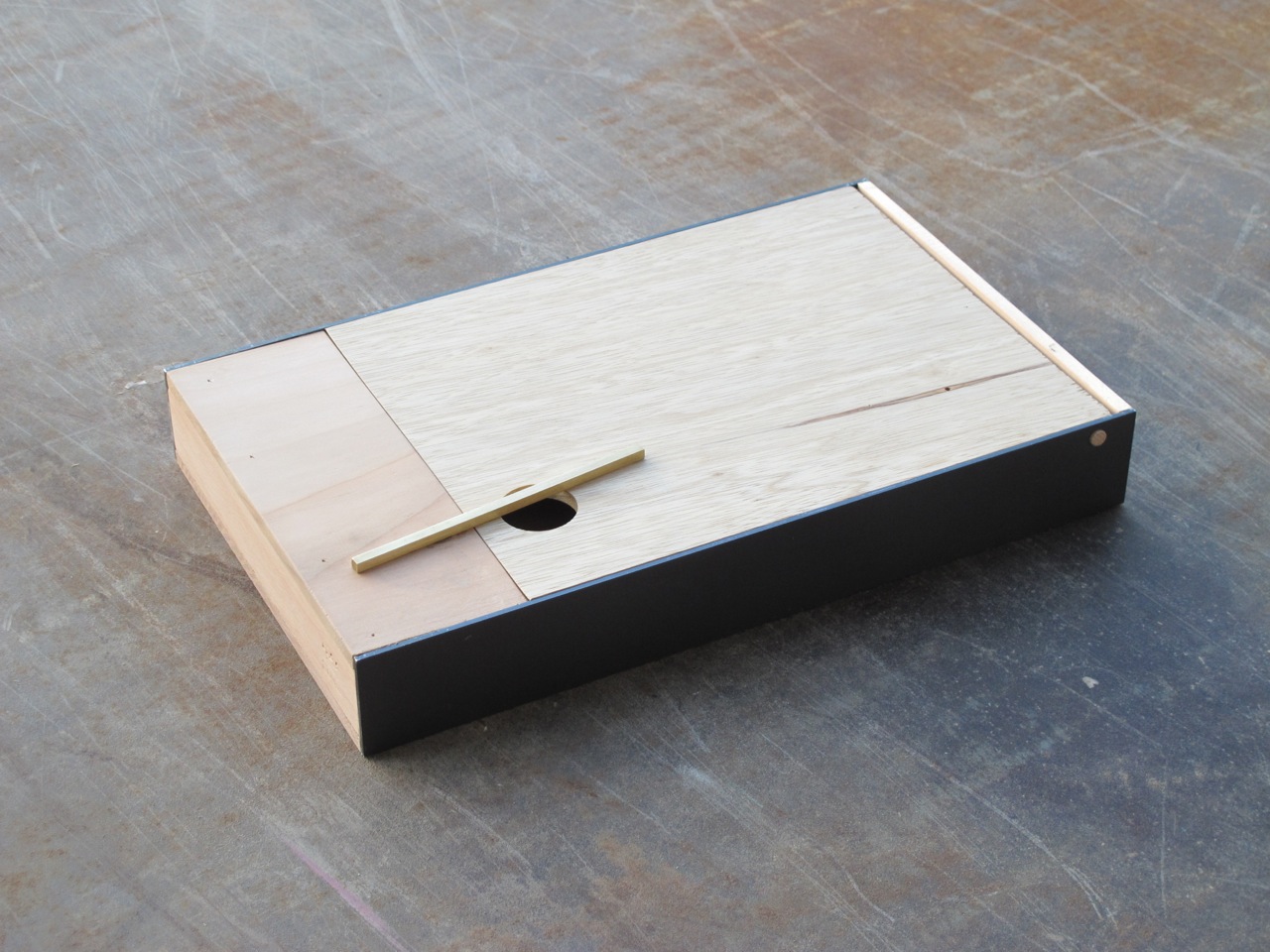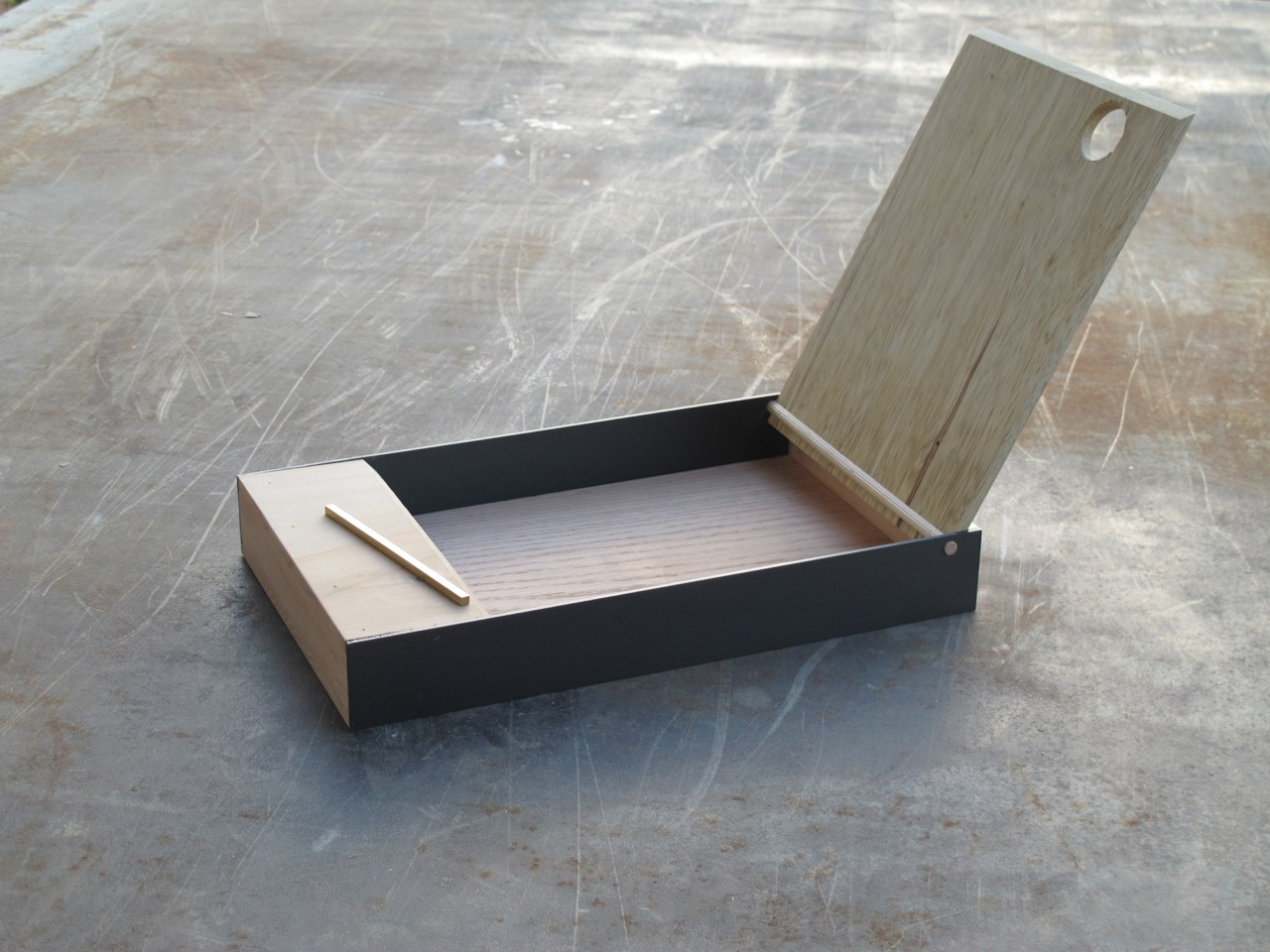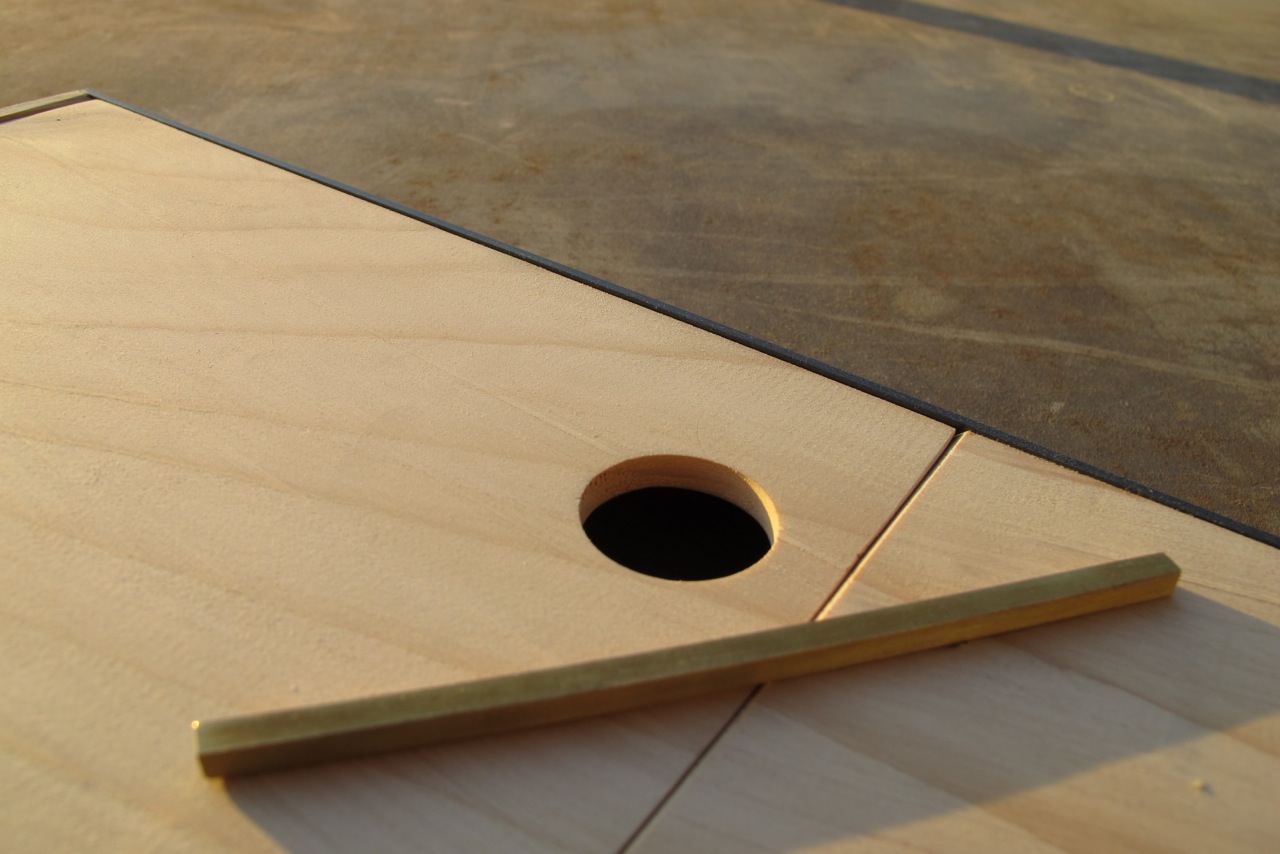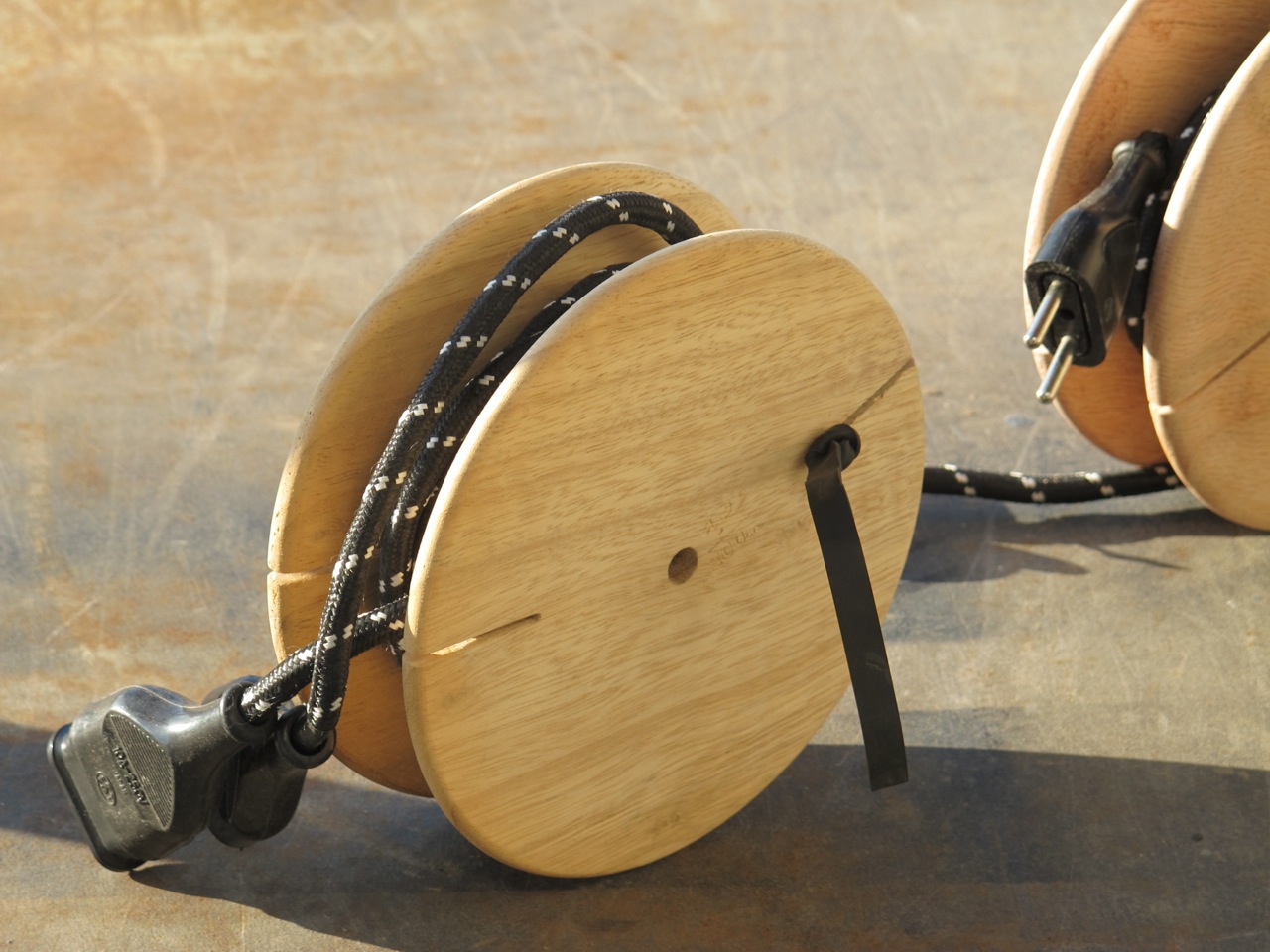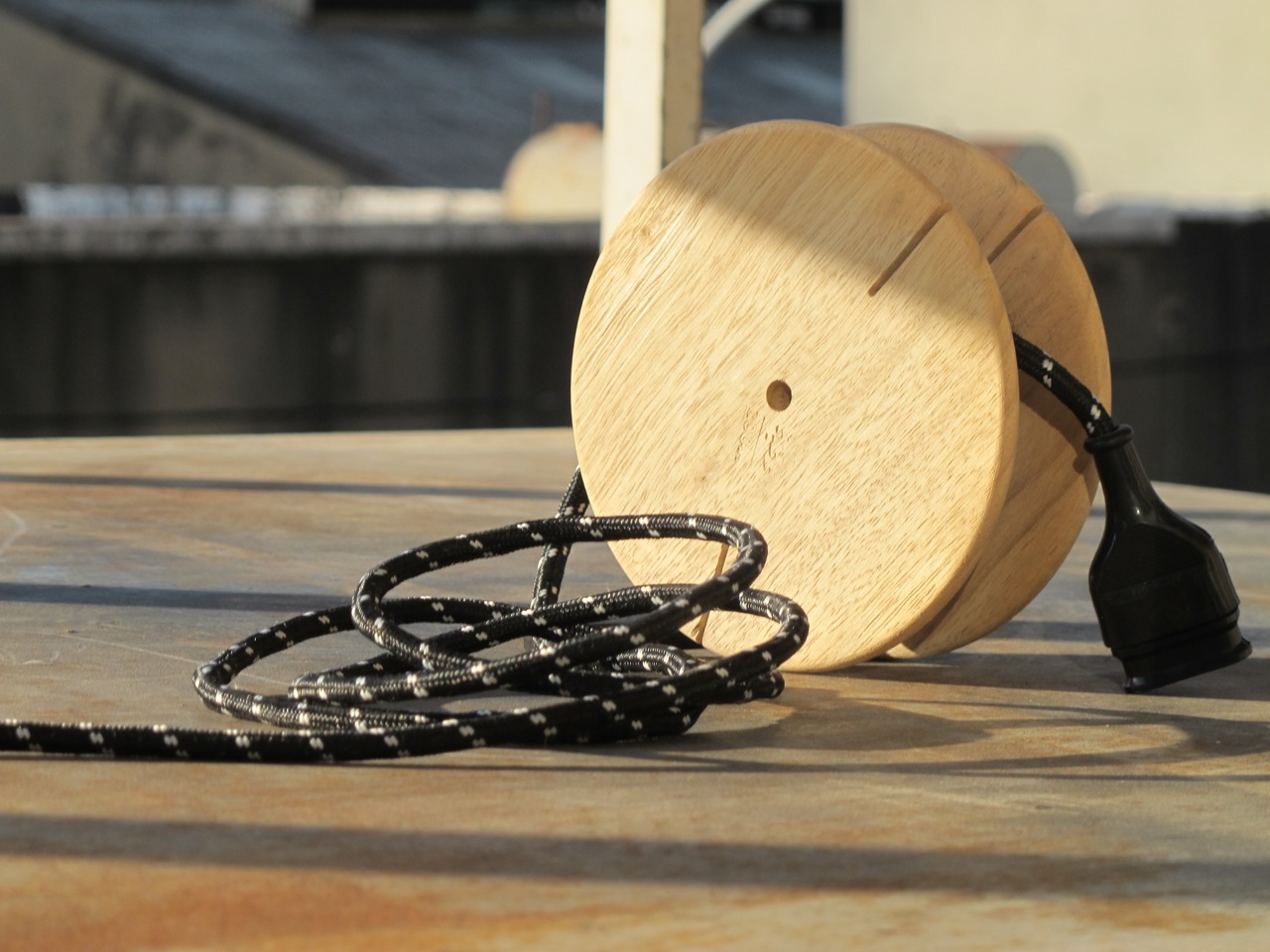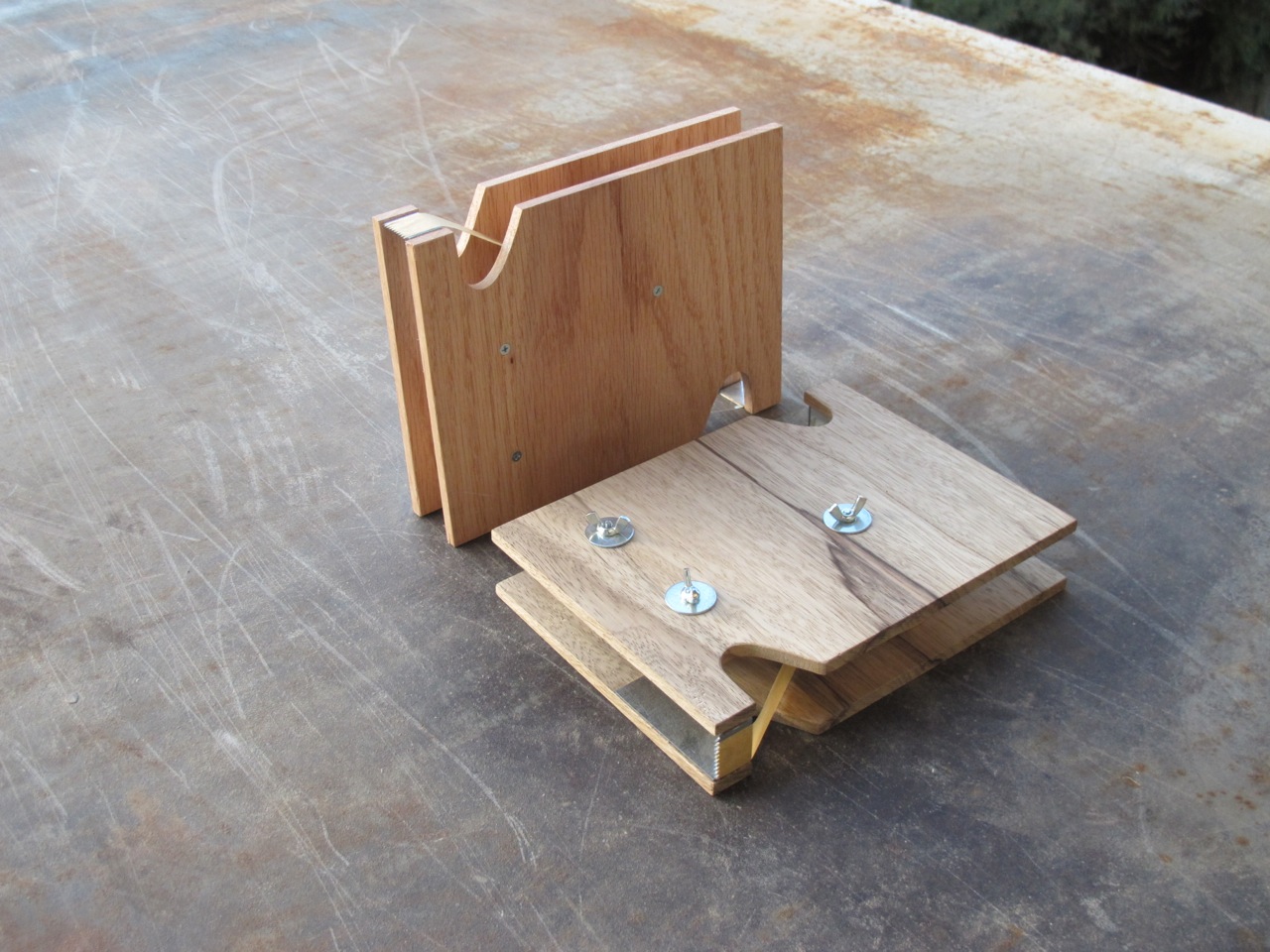 OUR CLASSICS
108 Grs. 221 Grs. 198 Grs. 239 Grs. 93 Grs. 182 Grs. 29 Grs. 621 Grs. 246 Grs. 618 Grs. 743 Grs. 1289 Grs.
our classics are made out of fall-off pieces of wood. Pieces are made by carefully bringing together different types of wood, along with metal and in some instances rubber, textile or cardboard. Each piece falls within the general ballpark of 200 Grs. -the inspiration behind the name of the series- and carries the name of its precise weight. The produced objects are appropriated and manipulated by their users in a variety of ways, opening the door to countless interpretations and utilizations. Accordingly, 200 Grs. embodies a discourse of dialogue between its creators and its end users, allowing each object to create unique ergonomic and emotional relationships with its future owner.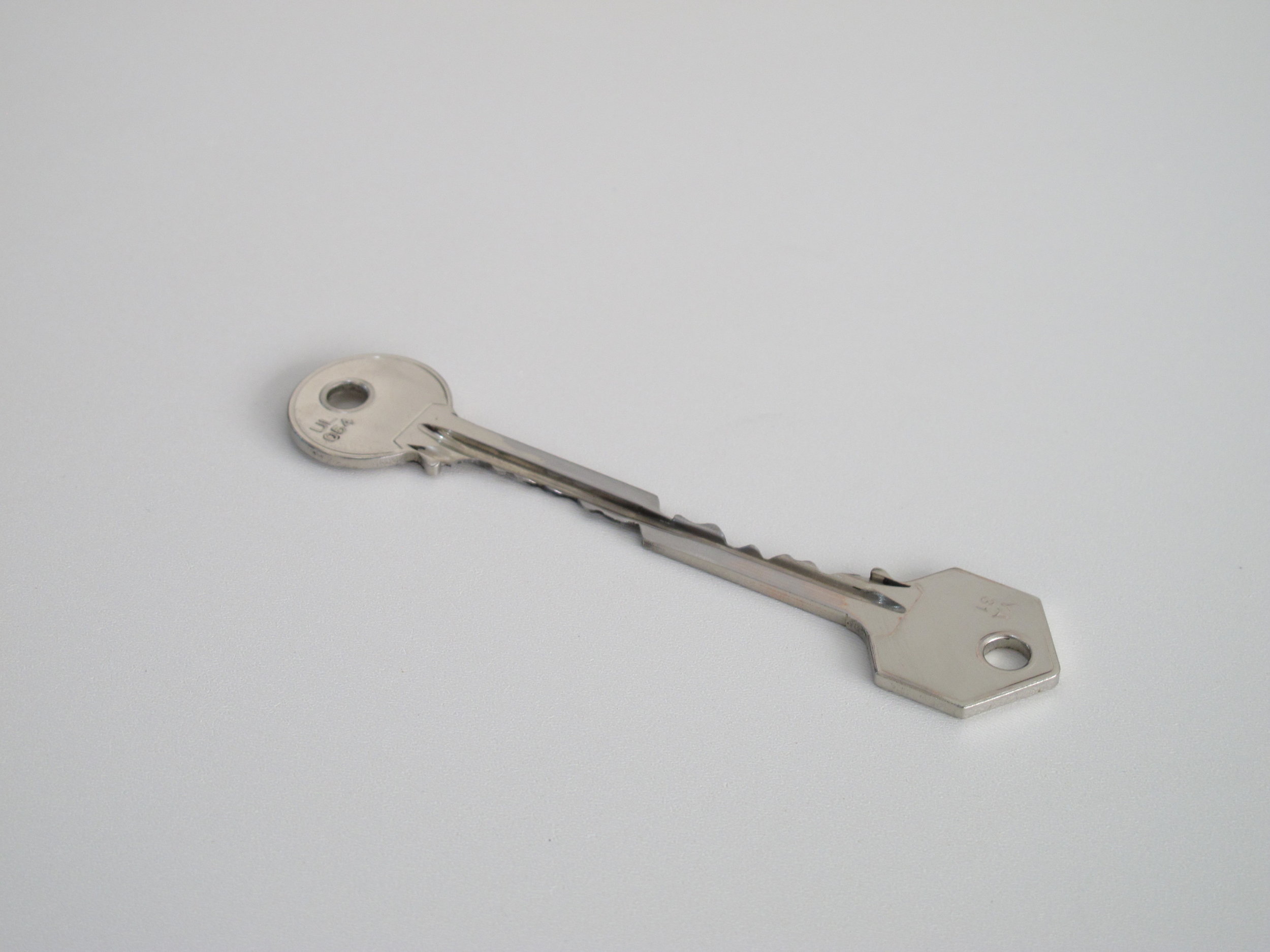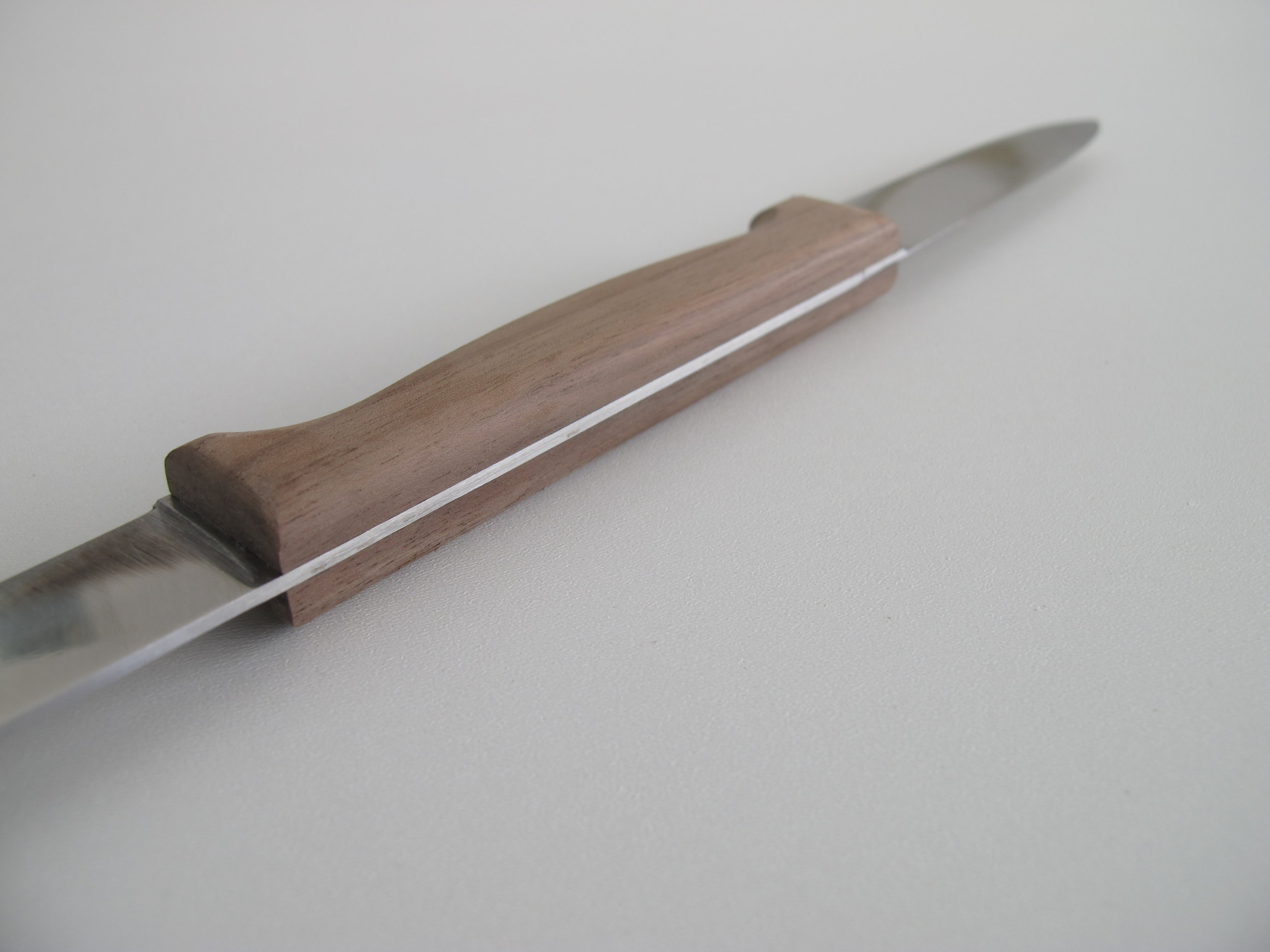 ODDS
460 Grs. 06 Grs. 62 Grs. 19 Grs. 120 Grs. 1819 Grs.
460 Grs. / Preserving jar: a very personal jar that will allow you to preserve the perfect image of your lost memories.
6 Grs. / Dis-ease: a sealed pencil by two erasers, one from each side. Made to erase only. 10+2AP
62 Grs. / Janus: risk of hurting oneself, it is a loose-loose situation. A fake Janus. 10+2AP
19 Grs. / Lost: lost door. Need we say more. 10+2AP
1819 Grs / Whole/hole: the chopping board can be used as one piece, or two separate pieces, or as two pieces together, somehow it gained a new functions.
120 Grs. / lnvaded: no more equilibrium; can only be fulfilled with a cork support.
535 Grs. / Keeping up appearances: on the one hand I can roll forever, but in reality I'm only pretending. 10+2AP
These products were commissioned by D&F for New York Design Week, Manhattan and Brooklyn. May 2016.
vanity Fair
1600 Grs.
We are part of a society where aesthetics and boundaries are blurred. Vanity Fair is a child-play questioning one aspect of these limitless actions. A reflection of the other projected on each one of us.